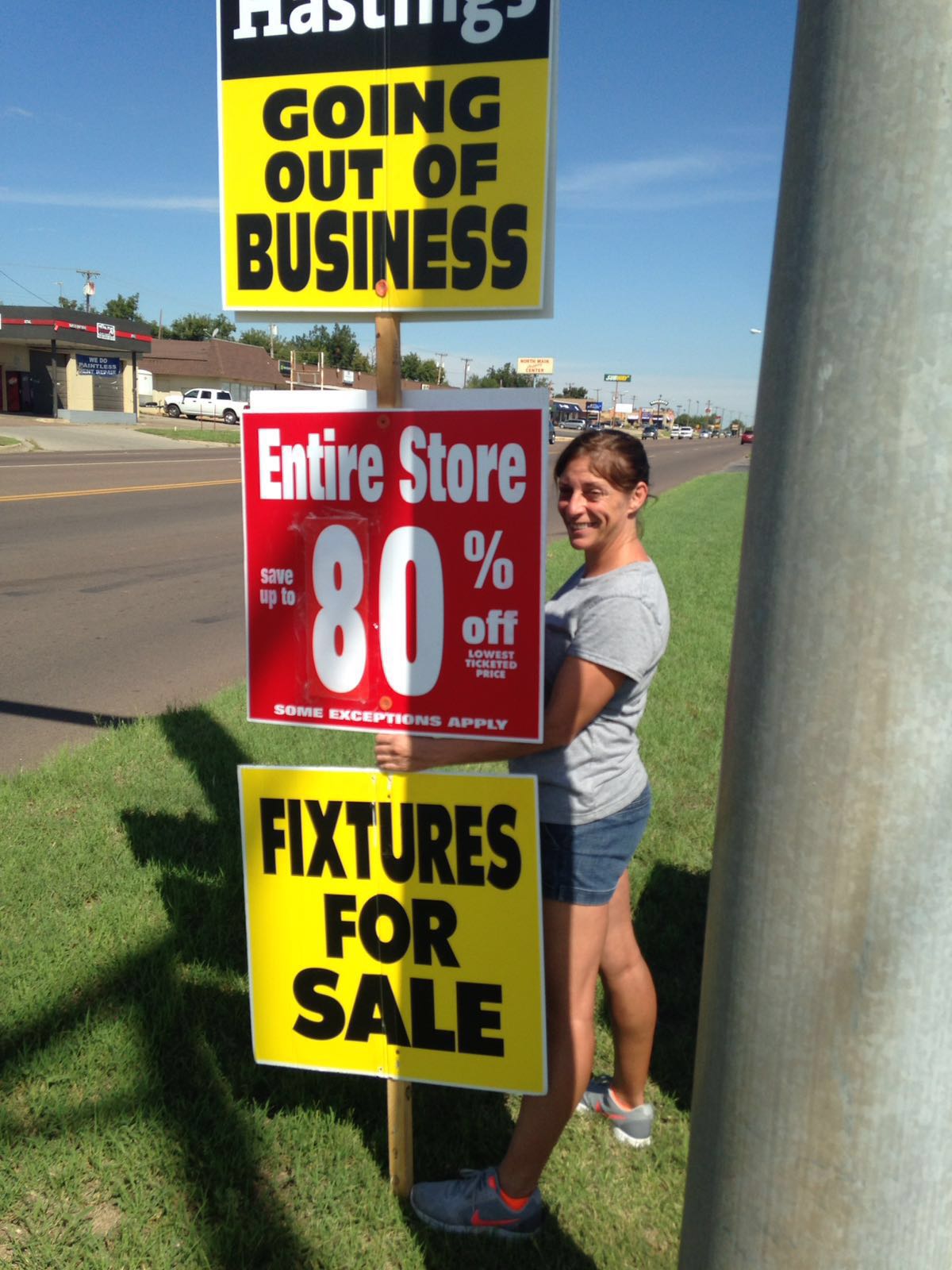 Welcome to My Sign Promotion! 
We are excited to have you on our team! 
On this page, we will walk you through all the steps needed to run a successful promotion. Please keep reading 'till the end! You don't want to miss anything. 
My Sign Promotion and The Sign Sale run sign-waving and other store closing promotions for the largest liquidation companies in the USA and we do so by working with talented people like you.
Please read this whole page and ask your onboarding specialist if you have any questions. 
Thank you for joining the team – we are very happy you're here. 
What is Sign Waving? 
Sign wavers are one of the main ways we drive attention to our Store Closing promotions. It is simple and effective and exactly what it sounds like - waving a sign outdoors during a store closing event. 
Why are we waving signs outdoors? 
Wave! Sign wavers work because we attract attention. We let the local community know about exceptional bargains at a store within blocks of where they are. We advertise by waving signs at high traffic intersections close to stores so as many people as possible can see them. 
How long? 
Our shifts are short. We keep our shifts down to five hours to make sure that you can be full of energy and waving the entire shift! 
Saturday: 11am-4pm 
Sunday: 11am-4pm or 12pm-5pm
Start Date: Your specific promotion schedule will be provided to you by your regional supervisor.  
Location: 
Your specific store location or locations will be provided to you by your regional supervisor. 
A Few Days before the shift: 
Confirm your shift. Contact your My Sign Promotion Regional Supervisor to confirm your availability for the upcoming shift. Make sure you know the start time and store address for your shift. 
Share the Wealth! Ask your My Sign Promotion supervisor if there are any other positions available for your friends and family. Most locations need multiple sign wavers. What's better than hanging out, making money, and sign waving? Make money with friends and family! 
The day of your first shift: 
Be early! Plan to be early and make sure that you're not late. We value professionalism and expect our Sign Waver Supervisors and Sign Wavers to be on time and available to answer the phone. My Sign Promotion sign wavers are on time every time. 
We Can Provide Your Materials! On the way to the store stop at the provided Home Depot or Lowe's location nearest to the store and pick up the boards and the roofing nails that we pre-order in your name (please make sure you bring a photo ID) 
Pick up your signs. Go to your assigned store or stores and pick up the signs. A store manager will be expecting you. If this is not the case, call your supervisor to track down your signs immediately. 
Sign In. Once you have your sign, you need to sign in. Use the My Sign Promotion link: https://mysignpromotion.com/submit-digital-sheet/ 
For our records and yours,  You must sign in on the paper sign in sheet: Print a Copy Please download and print few copies . You may take a photo of it as a backup and for your own records. 
Make sure to sign in using the digital form as well as the written sheet at the store. This is the best way to verify full credit for your time. Here is the link again for the digital compliance form we use to sign in and out. https://mysignpromotion.com/compliance-form/ 
Ask questions – Please don't hesitate to contact your supervisor if you have any questions. Your supervisor has been in your shoes and can help with any issues that may arise. Remember - one day you may be on the other end of that phone helping someone on their first day! 
We are here to make sure that you succeed! 
After your shift: 
Return the signs. Return the signs to the store. A store employee will be expecting you. If this is not the case, call your My Sign Promotion supervisor to help you turn in the signs. 
Sign out. Once you return the signs, please complete the paper compliance form. Make sure the paper sheet has the Store Name, Address, City and State and is signed by the store manager so you can upload a photo of it when you complete the digital form. Take a clear photo of the entire sheet when you upload it.
Our payroll department will review both the digital and paper sheets for your shift. Make it easy for them so you can get paid on time. 
Take a photo of the paper form for your own records and text a copy to your supervisor as backup. 
Note: If the sign out sheet contains mistakes it will delay the processing of your payment.  If you need help, contact your supervisor.  You'll get the hang of it in no time! 
$$$How Do I Get Paid$$$? 
If your preferred method of payment is all set up, you'll get paid the same day as your shift. Set up your preferred method of payment. Click Here to Set Up  . At the end of your first shift our office will contact you to process your first payment. At the end of each shift we will verify your compliance sheet and will process your payment. 
Prepare for your next shift: 
Check availability with your supervisor and get ready for the next shift. Most of our shifts run consecutively on weekends for months at a time. 
My Sign Promotion promotes from within. We are looking for awesome sign wavers who consistently do their best to have fun and make a difference throughout their entire shift. Team members who wish to become on-boarding specialists, local supervisors, regional supervisors, directors, and more can contact their supervisor at any time for more opportunities.
We are ready to take the next step with you.
 
Thank you for being great!